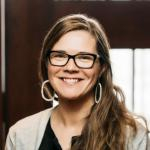 Photo Credit:
Photo credit
Angela Gzowski
BIO
Biography
Jess Dunkin is a settler writer and researcher living in Sǫ̀mba K'è (Yellowknife, NT), in Akaitcho Territory (Treaty 8), the homeland of the Yellowknives Dene. She is a graduate of The Writer's Studio at Simon Fraser University and has a PhD in Canadian history from Carleton University. Her first book, Canoe and Canvas, is a monograph about the social and spatial politics of canoeing in late-nineteenth-century North America, published with the University of Toronto Press in 2019. In addition to academic journals and edited collections, Jess's non-fiction writing on recreation, culture, and the environment has appeared in Up Here, Edge YK, and Barista, and on NiCHE.org, ActiveHistory.ca, and spacing.ca. She is currently working on a novel set in early-1980s Yellowknife.
ADDRESS
City: Yellowknife, Province/Territory: Northwest Territories
EMAIL
dunkin.jessica@gmail.com
GENRE
Fiction, Creative Non-Fiction
PUBLICATIONS
Publications
Title
Canoe and Canvas: Life at the Encampments of the American Canoe Association, 1880-1910.
Publisher
University of Toronto Press
PUBLIC PRESENTATIONS AND WORKSHOPS
Programs & Interests
Interested in participating Union's Ontario Writers-in-the-Schools program:
All members are eligible for the Union's Ontario Writers-in-the-Schools program. Are you interested in participating in this pro
Yes
Interested in participating in the Northern Ontario WITS program:
The Union's Northern Ontario Writers-in-the-Schools program funds in-person visits to northern Ontario schools when possible. Ar
No