Body
The Writers' Union of Canada announced today that Kim Fu is the recipient of the $10,000 prize for the 26th annual Danuta Gleed Literary Award, recognizing the best first collection of short fiction by a Canadian author published in 2022 in the English language.
Of Kim Fu's book Lesser Known Monsters of the 21st Century (Coach House Books), jury members Cynthia Holz, Sally Ito, and Jack Wang said: "Lesser Known Monsters of the 21st Century presents a mesmerizing array of characters whose encounters with the world are alternately mythical and monstrous, technological and disturbing. There are surreal insect infestations, sea monsters, and winged youth — but also futuristic body printers, memory simulators, and time-altering cubes. Navigating these metaphorical and psychological worlds with dexterous turns of phrase and evocative prose, Kim Fu is masterful at telling stories that engage and astound the reader."
Kim Fu's first novel, For Today I Am a Boy, won the Edmund White Award for Debut Fiction and the Canadian Authors Association Emerging Writer Award. It was also a finalist for the PEN/Hemingway Award, the Kobo Emerging Writer Prize, and the Lambda Literary Awards, as well as a New York Times Book Review Editors' Choice. Her second novel, The Lost Girls of Camp Forevermore, was a finalist for the Washington State Book Awards and the Ontario Library Association Evergreen Award. Lesser Known Monsters of the 21st Century won the 2023 Pacific Northwest Book Award and was a finalist for the 2022 Scotiabank Giller Prize. Kim was longlisted for the 2023 Joyce Carol Oates Prize for mid-career fiction authors. Kim's writing has appeared in the New York Times, Granta, The Atlantic, BOMB, Hazlitt, and the TLS. Kim lives in Seattle, Washington.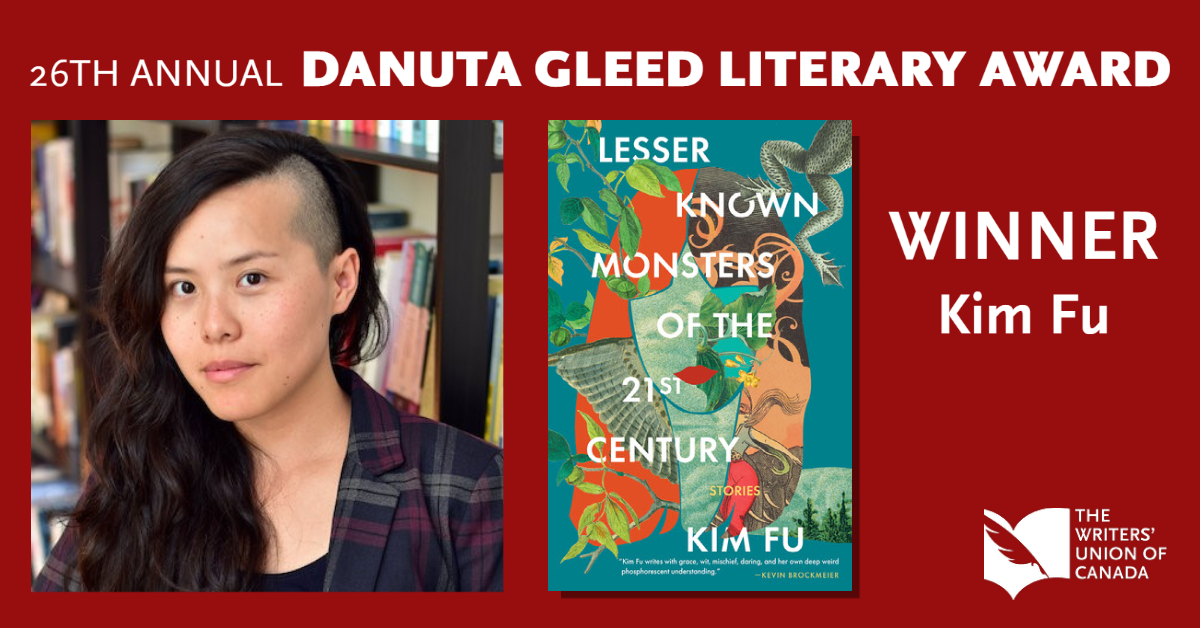 Runners-up Nada Alic and Saeed Teebi will each receive $1,000.
Of Nada Alic's Bad Thoughts (Vintage Books), the jury said: "Nada Alic's arresting stories about dating, sex, marriage, and compulsive female fantasies are as dark and absurd as they are hilarious and entertaining. Throughout the collection are precise, unusual descriptions and images, unexpected plot turns, and incisive comments made by appealingly witty and self-deprecating narrators. Clever and original, Bad Thoughts can also be profound regarding loneliness, depression, the disappointments of modern life, and the search for meaning."
Of Saeed Teebi's Her First Palestinian (House of Anansi Press), the jury said: "Saeed Teebi's Her First Palestinian is a powerful and propulsive debut collection of stories that dramatizes the experiences of the Palestinian diaspora. Compelling and complex characters displaced and removed from their historical homeland negotiate feelings of loss, estrangement, and complicity in Canada. Skillfully written with penetrating insight into the characters' fractured identities, this book reveals a talented new Canadian voice."
The short list of five books was announced on April 26, 2023, and also included Kathy Friedman for All the Shining People (House of Anansi Press) and Rawi Hage for Stray Dogs (Knopf Canada).
The Danuta Gleed Literary Award was created as a celebration of the life of Danuta Gleed, a writer whose short fiction won several awards before her death in December 1996. Danuta Gleed's first collection of short fiction, One of the Chosen, was posthumously published by BuschekBooks. The award is made possible through a generous donation from John Gleed, in memory of his late wife, and is administered by The Writers' Union of Canada.
To date, the award has presented more than $224,000 to writers and has recognized more than 135 first collections of short fiction for their excellence. The first recipient was Curtis Gillespie for The Progress of an Object in Motion. Other winners have included Norma Dunning for Annie Muktuk and Other Stories, Carrianne Leung for That Time I Loved You, Zalika Reid-Benta for Frying Plantain, Jack Wang for We Two Alone and last year's winner, Arnolda Dufour Bowes for 20.12m: A Short Story Collection of a Life Lived as a Road Allowance Métis.
The Writers' Union of Canada (TWUC) is the national organization of professionally published writers. TWUC was founded in 1973 to work with governments, publishers, booksellers, and readers to improve the conditions of Canadian writers. Now over 2,600 members strong, TWUC advocates on behalf of writers' collective interests, and delivers value to members through advocacy, community, and information. TWUC believes in a thriving, diverse Canadian culture that values and supports writers.
– 30 –
For additional information:
John Degen, Chief Executive Officer
The Writers' Union of Canada
jdegen@writersunion.ca
Date: May 25, 2023