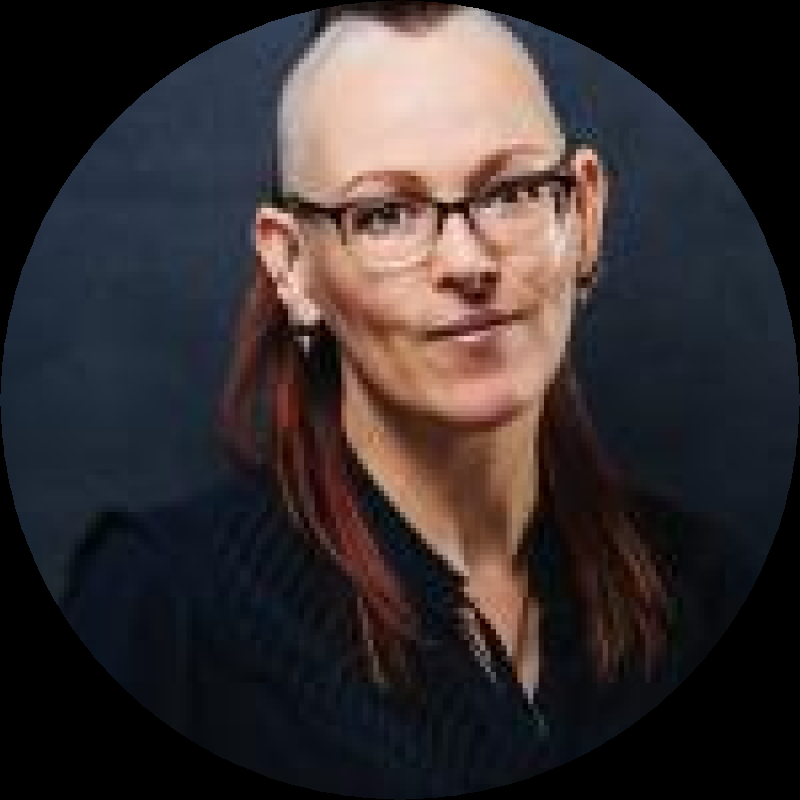 Photo Credit:
Photo credit
Tanja Tiziana
BIO
Biography
Kristyn Dunnion grew up in Essex County, the southern most tip of Canada, and now makes her home in Toronto. She has authored six books including "Stoop City" (Biblioasis, 2020), winner of the 2021 ReLit Award for short fiction, and "Tarry This Night" (Arsenal Pulp Press, 2017). "The Dirt Chronicles" (Arsenal Pulp Press, 2011) was a Lambda Literary Award finalist. Recent fiction appears in Best Canadian Stories 2020, Orca, and Toronto 2033. She is an Acker Award recipient and winner of the Metcalf-Rooke Award. Dunnion is a support worker for marginally housed adults with serious mental illness, a heavy metal bassist and a queer punk performance artist. 
ADDRESS
City: Toronto, Province/Territory: Ontario
EMAIL
info@kristyndunnion.com
GENRE
Speculative Fiction, primarily
PUBLICATIONS
Publications
Publisher
Arsenal Pulp Press
Title
The Dirt Chronicles
Publisher
Arsenal Pulp Press
AWARDS
Awards
Name
ReLit Award for short fiction
Publication
Best Canadian Stories 2020
PUBLIC PRESENTATIONS AND WORKSHOPS
Presentation details
Presentation Length
1 hour minimum
Presentation Fee(s)
150.00
Workshop details
Audience Size
prefer 24 or less
Intended Audience
teen/young adult or adult creative writers
Workshop Length
minimum 90 minutes
Workshop Description
Workshop description
Kristyn facilitates innovative, hands-on creative writing workshops for writers of all ages/experience levels. She has a special interest in workshops that focus on story and character development, on maintaining a sustainable artistic practice, and on combining environmental and social justice issues with creative writing. Workshops can be tailored to accommodate the group's' needs.
School presentation details
Audience Size
regular class size
Intended Audience
grade 9 and higher
Presentation Length
one full class minimum
Presentation Description
Presentation description
Kristyn will read age-appropriate excerpts from her work, make connections to the larger themes in the work and discuss her motivation for writing as a form of social critique or resistance. An informal Q & A to encourage student participation is an option.
Presentation Fee(s)
150.00
EQUITY INITIATIVE
As part of the Union's Equity Implementation Plan, we are committed to increasing awareness of authors who are Black, Indigenous, racialized, LGBTQI2S, or living with a disability. This author identifies as:
Programs & Interests
Interested in participating Union's Ontario Writers-in-the-Schools program:
All members are eligible for the Union's Ontario Writers-in-the-Schools program. Are you interested in participating in this pro
Yes
Interested in participating in the Northern Ontario WITS program:
The Union's Northern Ontario Writers-in-the-Schools program funds in-person visits to northern Ontario schools when possible. Ar
Yes