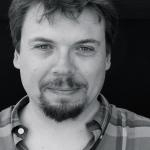 Photo Credit:
Photo credit
Stephen Lang
BIO
Biography
Writer and musician M.D. Dunn (Mark D. Dunn) has performed for 40 years, and released ten albums. His articles, reviews, and poems have been widely published. Mark teaches writing, research, poetry, and music history at Sault College of Applied Arts and Technology. 
ADDRESS
City: Sault Ste Marie, Province/Territory: Ontario
GENRE
nonfiction music, poetry, fiction
PUBLICATIONS
Publications
Title
You Get Bigger as You Go: Bruce Cockburn's Influence and Evolution
PUBLIC PRESENTATIONS AND WORKSHOPS
Presentation details
Presentation Genre
nonfiction, poetry
School presentation details
Intended Audience
grade school, high school, post secondary
Presentation Length
45 minutes to several hours workshop
Presentation Description
Presentation description
Presentations vary, depending on the age of the group and the wishes of the educators. Some themes:
Poetry, writing and appreciation: workshops in composition and the evaluation of the work of published poets;
Literary History: presentation on why reading and writing matter;
Songwriting: workshops for beginners and intermediate. 
Presentation Fee(s)
$75-300
Programs & Interests
Interested in participating Union's Ontario Writers-in-the-Schools program:
All members are eligible for the Union's Ontario Writers-in-the-Schools program. Are you interested in participating in this pro
Yes
Interested in participating in the Northern Ontario WITS program:
The Union's Northern Ontario Writers-in-the-Schools program funds in-person visits to northern Ontario schools when possible. Ar
Yes