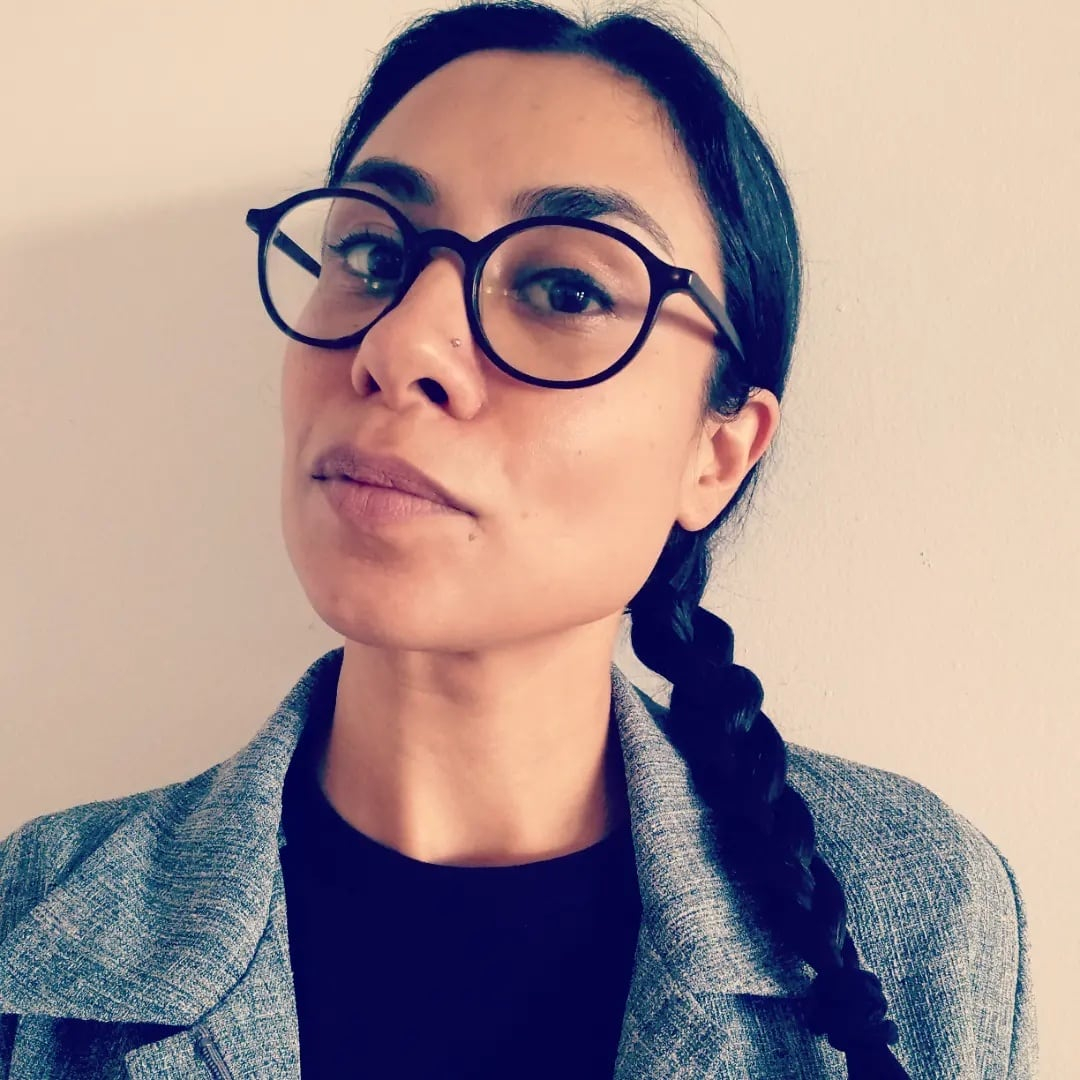 BIO
Biography
Preeti Kaur Dhaliwal (she/her) is a critical race feminist, writer, former lawyer, educator and facilitator who grew up on the traditional, present and future territories of the Semiahmoo, Katzie, Kwikwetlem, Kwantlen, Qayqayt, Tsawwassen and Musqueam First Nations (also known as Surrey and North Delta, British Columbia). With over 15 years of facilitation and teaching experience, Preeti is committed to arts-based methodologies as a source of personal and collective empowerment, transformation and community-building. She has taught creative writing at Guelph-Humber College, led arts-based workshops across Canada and the US in various institutions (including universities, law faculties, women's spaces and youth centers), and firmly believes that stories change the world by altering our ways of seeing, feeling and being with one another.
In her creative life, Preeti examines themes of touch, race, grief, power, diasporic Punjabi life and sexuality. Her writing has been anthologized and has appeared in PRISM international, Looseleaf Magazine, The New Quarterly, The Fiddlehead, alt. theatre, Canadian Notes & Queries, and Held Magazine, amongst numerous other publications. She holds an MFA from the University of Guelph, won second place in the 3-Day International Novel Writing Contest and was recently long-listed for the Vera Manuel Poetry Prize. She is also a two-time writer in residence at Voices of Our Nation (VONA), a Banff alumna, a Deer Lake Residency alumna and a recipient of Canada Council for the Arts grants.
Before leaving her legal career, Preeti articled at a boutique litigation firm in Tkaronto and clerked at the Federal Court of Canada. In her academic career (BA, LLB, BCL, LLM, MFA), she used theatre, performance art and creative writing to examine how law lives in the body with a focus on race, and received over two dozen awards for community service and academic merit, most recently the DF Forster Medal. You can learn more about her on IG @jadooberry / @write.with.preeti. As a facilitator, Preeti strives to take a trauma-informed, somatic approach that centres each person's agency and the importance of community. 
ADDRESS
City: Traditional and unceded territories of the Musqueam, Squamish, and Tsleil-Waututh Nations || Vancouver ||, Province/Territory: British Columbia
GENRE
Poetry, Fiction, Nonfiction, Hybrid
PUBLICATIONS
Publications
Title
"the physiology of home" (poem)
Publisher
Humber Literary Review
Year
2022/2023 (vol. 10, issue 2, fall/winter)
Publisher
Humber Literary Review
Year
Fall 2022/Winter 2023, vol. 10, issue 2
Title
"She disarms me: a deconstructed pantoum" (poem)
Publisher
Canadian Notes & Queries
Year
Fall 22/Winter 23, No. 112
Title
"On Survival and Exhalation" (poem)
Publisher
The Fiddlehead: BIPOC Solidarities
Year
Winter 2022, No. 290
Title
"A Picnic with Aunties" (short story)
Publisher
The New Quarterly
Title
"bitter-skinned with okra" (poem)
Title
"Lullabied Fractions" (poem)
Publisher
We Were Not Alone: a Community Building Art Works Anthology, edited by Hari Alluri & Seema Reza with an introduction by Jewel
Title
"squash & transmissible thoughts" (story)
Publisher
tbd: A Mixed-Mode Response to COVID-19, ed. Kyo Maclear
Title
"Re-embodying Jurisprudence: Performance Art" (personal essay/reflection on performance art)
Publisher
Theatre Research in Canada (TRIC): Race and Performance in the US-Canada Borderlands
Title
"Waking up Desperate for Your Mother Tongue" (creative non-fiction)
Publisher
Looseleaf Magazine
Title
"Body/Home" (creative non-fiction)
Publisher
Prism International: BAD
Title
"This is jurisprudence: we are the ones we've been waiting for" (poem)
Publisher
Alt Theatre Magazine
Title
"Love Doesn't Trump Hate. Empathy, Education and Care Trump Hate." (creative non-fiction essay).
Publisher
FOLD 2017 Literary Festival Program, Toronto
Title
"Re-embodying Jurisprudence: Using Theatre and Multimedia 2017 Arts-based Methods to Support Critical Thinking, Feeling and Transformation in Law," (peer-reviewed thesis, online)
Title
"Alison Young: Street Art, Public City. Law, Crime and the Urban Imagination" (book review)
Publisher
No Foundations, Interdisciplinary journal on law and justice
Title
"The Performativity of Evidence: Oral History Testimony & Aboriginal Land Claims" (essay)
Title
"Gay Civil Rights and Science: A Tug of War" (essay)
Publisher
UBC Political Science Undergraduate Journal
PUBLIC PRESENTATIONS AND WORKSHOPS
EQUITY INITIATIVE
As part of the Union's Equity Implementation Plan, we are committed to increasing awareness of authors who are Black, Indigenous, racialized, LGBTQI2S, or living with a disability. This author identifies as:
Members who identify as:
Black, Indigenous, and/or racialized
LGBTQI2S
Programs & Interests
Interested in participating Union's Ontario Writers-in-the-Schools program:
All members are eligible for the Union's Ontario Writers-in-the-Schools program. Are you interested in participating in this pro
Yes
Interested in participating in the Northern Ontario WITS program:
The Union's Northern Ontario Writers-in-the-Schools program funds in-person visits to northern Ontario schools when possible. Ar
No