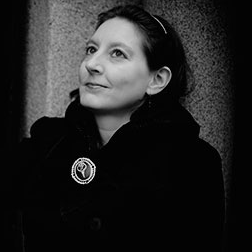 BIO
Biography
Rachel A. Rosen is the author of Cascade (The Sleep of Reason Book 1) and the co-author of The Sad Bastard Cookbook: Food You Can Make So You Don't Die. She is an activist, graphic designer, and for her sins, a high school teacher. In a previous life, she published two long-running anarchist 'zines and designed the uniform for the Christie Pits Hardball League.
She has written for Atlas Obscura, The Humanist In Canada, and Culture and the State. In her non-existent spare time, she designs book covers.
She lives in Toronto, where she is the harried personal assistant to two cats.
ADDRESS
City: TORONTO, Province/Territory: Ontario
GENRE
fantasy, sci-fi, eco-fiction, non-fiction
PUBLICATIONS
Publications
Publisher
The BumblePuppy Press
Title
The Sad Bastard Cookbook: Food You Can Make So You Don't Die
Publisher
Independent Publishing Network
PUBLIC PRESENTATIONS AND WORKSHOPS
Presentation details
Presentation Genre
beta reading
Presentation Length
1.5 hours
Presentation Description
Presentation description
Be a Better Beta
Beta readers help you see your story from another set of eyeballs.
Learn how to give and get-useful feedback on your writing!
Workshop details
Workshop Length
1.5 hours
Workshop Description
Workshop description
Book Cover Design for Writers
Your book cover is your most powerful marketing tool for your writing.
Discover how to judge a book by its cover! How do great covers get made?
Learn which questions to ask, which design pitfalls to avoid, and how your cover can bring your story to life. This workshop is aimed at both self-publishing authors and those working with a publisher.
Attendees will have the option to submit a cover concept for their manuscript along with a 250-word description of their writing for critique.
EQUITY INITIATIVE
As part of the Union's Equity Implementation Plan, we are committed to increasing awareness of authors who are Black, Indigenous, racialized, LGBTQI2S, or living with a disability. This author identifies as:
Programs & Interests
Interested in participating Union's Ontario Writers-in-the-Schools program:
All members are eligible for the Union's Ontario Writers-in-the-Schools program. Are you interested in participating in this pro
Yes
Interested in participating in the Northern Ontario WITS program:
The Union's Northern Ontario Writers-in-the-Schools program funds in-person visits to northern Ontario schools when possible. Ar
Yes