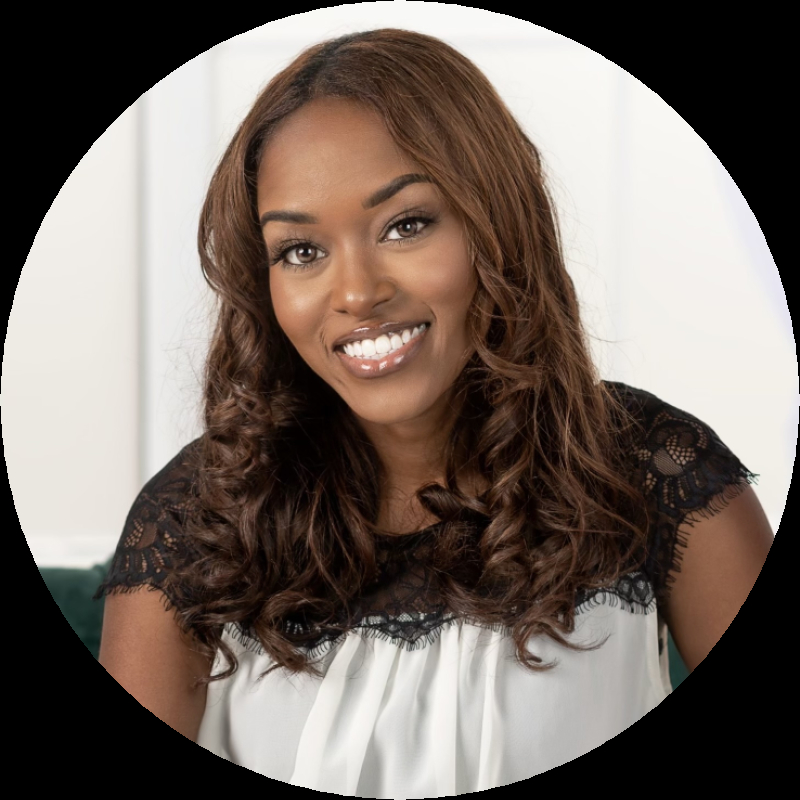 Photo Credit:
Photo credit
Atalia's Photos Inc.
BIO
Biography
Erica London is a wife, mother of 4 and children's author of two published books geared to children ages 3-9. 
She's passionate about creating literature that brings about conversation to an ever growing market of BIPOC authors that see the need to portray characters of different ethnicities in their books, especially children's books. She believes it is important that they see themselves in and on the things they are viewing. This would essentially shape the men and women they'd become.
Both of London's books are written in poetry form with facts and questions following them to assist in bringing about the discussion with the young reader. The first book, Missing You was written to enable children to navigate their grief while dealing with loss of a loved one.
The second, Stuck in the Middle is humorous in nature and was written to show every child, especially a middle child that they have a place in the family dynamic.
Colour Their World is a Youtube channel that London has created where she presents diverse children books as read alouds. London's animated style of storytelling accompanied with music enables her to capture the attention of her young viewers, causing them to be more engaged in what is being read.
Doing Public Read Alouds and creating resources for educators is what she enjoys most.
ADDRESS
City: Oshawa, Province/Territory: Ontario
EMAIL
colourtheirworld2020@gmail.com
PUBLICATIONS
Publications
Title
Stuck in the Middle
PUBLIC PRESENTATIONS AND WORKSHOPS
Presentation details
Presentation Genre
children
Presentation Length
1.5 hours
Presentation Description
Presentation description
During this time I would be happy to present the book as a read aloud to the group. Aside from having an open discussion of what was read; I'm also able to walk with activities that can be done with the children to enforce the said topic. Due to the fact that I am a singer I can to do sing alongs with the children.
Ex: Reading a book about buses or transportation
Age Group: JK-2
Discussion: Why do we need vehicles? What is the importance of them? What are different modes of transportation?
Activity:  Drawing a picture of their favorite vehicle and labelling the parts 
Song: The wheel on the bus...involving the children to make up their own verses.
I would also use this opportunity to talk about my books and Colour Their World.
Workshop details
Intended Audience
Range of ages 3-13 years of age
Workshop Description
Workshop description
Most of the workshops I've done have been with older children. They were creative writing workshops to encourage storytelling and talk about the creative writing process.
Depending on what the educator has in mind I'm more than willing to contribute in what ever way possible.
School presentation details
Intended Audience
Children ,JK-grade 8
Presentation Length
1.5hrs
Presentation Description
Presentation description
I would use this opportunity to introduce myself and briefly speak of becoming a children's author and why reading is so important.
Not only am I able to speak of my published material, but I can display the different avenues of Colour Their World.
Keep in mind that the read alouds don't necessarily have to be of my books as I am a story teller. It can be centred around a topic that is being discussed in the classroom.
EQUITY INITIATIVE
As part of the Union's Equity Implementation Plan, we are committed to increasing awareness of authors who are Black, Indigenous, racialized, LGBTQI2S, or living with a disability. This author identifies as:
Members who identify as:
Black, Indigenous, and/or racialized
Programs & Interests
Interested in participating Union's Ontario Writers-in-the-Schools program:
All members are eligible for the Union's Ontario Writers-in-the-Schools program. Are you interested in participating in this pro
Yes
Interested in participating in the Northern Ontario WITS program:
The Union's Northern Ontario Writers-in-the-Schools program funds in-person visits to northern Ontario schools when possible. Ar
Yes