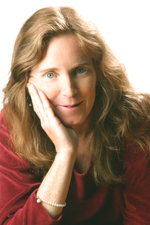 BIO
Biography
Trained as a journalist, Heather Conn has worked as a professional writer for 40+ years, based in the Vancouver, BC region. She has published in 50+ magazines and newspapers, including The Globe and Mail, Vancouver Sun, Edmonton Journal, Georgia Straight, and Canadian Geographic. She has also co-written two short films for Bravo! TV and served as a writer for CBC-TV Vancouver. Her specialty areas include arts and culture, the environment and conservation, travel, social justice issues, and eastern spirituality.
Heather is the author of the creative nonfiction memoir No Letter in Your Pocket: How a Daughter Chose Love and Forgiveness to Heal from Incest (Guernica 2023). It includes an afterword by the best-selling author Dr. Bernie Siegel, who wrote the acclaimed book Love, Medicine, and Miracles and many others. The late Sylvia Fraser said: "I recommend her beautifully written memoir unreservedly." Heather has been interviewed about her memoir and healing from trauma on both Canadian and international podcasts (see link).
She has written two nonfiction history books on public transit in Vancouver, BC (Vancouver's Glory Years, Whitecap Books (2003), co-written with Henry Ewert, and Vancouver's Trolley Buses, 1948-1998 (BC Transit, 1998)) and two picture books, Gracie's Got a Secret (MW Books, 2011), and Six Stinky Feet and a Sasquatch (Peppermint Toast Publishing, 2019). Her nonfiction features have appeared in at least a half-dozen anthologies, including Art and Words (2023, 2022, Sunshine Coast Writers and Editors Society (SCWES)), New Beginnings (Timbercrest Publishing, 2019), Raincoast Chronicles 22 (Harbour Publishing, 2013), and Emails from India (Seraphim Editions, 2013).
Heather works as a writing coach in nonfiction and fiction and has taught professional writing full-time at Selkirk College. She teaches "Introduction to Memoir" online for the University of King's College and recently taught their online memoir course "Writing From Pain to Power." Since 2018, she has taught creative writing workshops for the City of Port Moody. She has also taught screenwriting at Powell River Digital Film School, and multimedia writing at Pull Focus (now In Focus) Film School in Vancouver.
Other teaching venues, on subjects from travel to memoir and creative nonfiction, include Capilano University, Continuing Education (Sechelt), Simon Fraser University at Harbour Centre, and the Kootenay School of Writing. Heather created and taught five courses in creative writing for adults with mental illness for the Vancouver Coastal Health Authority in Sechelt, BC. Heather has presented at conferences at Banff Centre for the Arts, in Victoria for the Creative Nonfiction Collective Society, at Sage-ing International in Seattle, and for the Tri-City Wordsmiths, Vancouver School of Writing, SCWES, Royal City Literary Arts Society, and others. Decades ago, her popular writing courses in Continuing Education for the Vancouver School Board maintained waiting lists. 
Besides editing nonfiction and fiction books, Heather has worked as editor-in-chief of PeopleTalk magazine, published by the B.C. Human Resources Management Association. She served as a contributing editor for Alive and BC Woman magazine and as western editor for Trucking Canada. She has edited at least a dozen books for a variety of B.C. publishers, including Harbour Publishing, MW Books, and Opus Productions Inc. She continues to work as a freelance editor with authors of both self-published and traditionally published books.
As former communications manager for Ending Violence Association of BC and for BC Transit, Heather wrote and edited web material, social media, and an extensive range of internal and external content, including video PSAs for the BC Lions regarding COVID safety. She served as editorial director for Century Communications in Vancouver and has written and/or edited promotional materials or ad content for groups including Sustainability Television, Pacific Wild, and the Sunshine Coast Regional District.
Heather has an MFA in creative nonfiction from Goucher College, Baltimore. She has won awards from TWUC, Southam Communications, SCWES, and others. Please contact her for a publications list of full list of awards.
ADDRESS
City: Vancouver/Sunshine Coast, Province/Territory: British Columbia
GENRE
Creative nonfiction; short and long prose; picture book fiction; screenwriting, short drama and documentary
PUBLIC PRESENTATIONS AND WORKSHOPS
Presentation details
Audience Size
Audience size
10 people to 1,000
Presentation Genre
Nonfiction; Picture book fiction; creative nonfiction
Presentation Length
One hour or less; have done longer ones -- am flexible; enquire to discuss
Presentation Description
Presentation description
Have presented on broad array of topics, from Writing History to Travel Writing to Writing About Trauma and Taboos, Memoir, Healing from Sexual Crimes, Creative Nonfiction, etc. Can prepare a tailor-made presentation on demand.
Enquire to discuss.
Presentation Fee(s)
$250/hr minimum to $1,000+ , depending on audience, venue, and host
Workshop details
Audience Size
Prefer 12 to 30, will consider larger depending on topic and venue
Intended Audience
See above under Presentation
Workshop Length
Totally flexible on this
Workshop Description
Workshop description
See Presentation description above. Can prepare a tailor-made workshop on many topics that address introduction to journalism, history writing and research, creative nonfiction, memoir, etc.
Workshop Fee(s)
Flexible, sliding scale; call to discuss
School presentation details
Audience Size
30 to 60, preferably -- will consider larger, depending on topic and venue
Intended Audience
Kindergarten, grades 1-3; high school
Presentation Length
usually one hour
Presentation Description
Presentation description
Reading from my picture book and general discussion regarding sasquatch stories, writing, working with publishers etc. Can include art project, if desired.
Presentation Fee(s)
$250/hr minimum plus supply costs, if art project included
Programs & Interests
Interested in participating Union's Ontario Writers-in-the-Schools program:
All members are eligible for the Union's Ontario Writers-in-the-Schools program. Are you interested in participating in this pro
Yes
Interested in participating in the Northern Ontario WITS program:
The Union's Northern Ontario Writers-in-the-Schools program funds in-person visits to northern Ontario schools when possible. Ar
Yes