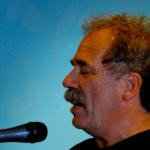 Photo Credit:
Photo credit
Brenda Clews
BIO
Biography
Born in Guelph, Ontario, John has lived in Egypt, Iraq and Japan and then settled in Toronto. He has a BA and MA in English from York U., and non-credit writing courses at the jack Kerouac School of Disembodied Poetics, where he worked closely with Allen GInsberg and Anne Waldman. After jobs in publishing and corporate communications, be began a 20-year career teaching in Ontario community colleges.  He taught English and general education courses, and then for the last 10 years led faculty development at Centennial College. Now retired, he enjoys free-lance editing, improving his photography, playing guitar and travelling.
ADDRESS
City: John, Province/Territory: Ontario
GENRE
Poetry, fiction, nonfiction
PUBLICATIONS
Publications
Publisher
Guernica Editions
Title
Death by Triangulation
Publisher
NeoPoiesis Press
Title
Mata Hari's Lost Words (2nd edition)
Publisher
NeoPoiesis Press
Title
Higher Teaching: A Handbook for New Postecondary Faculty
Publisher
Guernica Editions
PUBLIC PRESENTATIONS AND WORKSHOPS
Presentation details
Presentation Genre
creative writing, editing one's own work
Presentation Length
60-120 min.
Presentation Description
Presentation description
Exact choices to be determined with the hosting school or organization
Presentation Fee(s)
$350 and up, depending on material covered and length
Workshop details
Intended Audience
High School, postsecondary
Workshop Length
60-120 min.
Workshop Description
Workshop description
To be determined in consultation with funding organization or school
Workshop Fee(s)
$350 up, depending on length
Programs & Interests
Interested in participating Union's Ontario Writers-in-the-Schools program:
All members are eligible for the Union's Ontario Writers-in-the-Schools program. Are you interested in participating in this pro
Yes
Interested in participating in the Northern Ontario WITS program:
The Union's Northern Ontario Writers-in-the-Schools program funds in-person visits to northern Ontario schools when possible. Ar
Yes