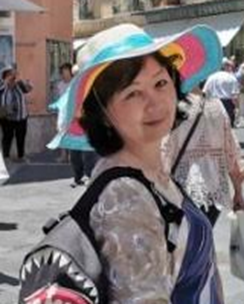 BIO
Biography
Born and raised in China, Sherry Wong moved to Canada in the late 80s to pursue her master's degree. Since 2012, she wrote under both her real name and a pen name, Tong Ge, and have published poems, prose, and short stories (both in English and in Chinese) in the North America, England, and Taiwan. They may be found in publications including PRISM International, Canadian Stories, Ricepaper, Academy of the Heart and Mind, FLOW magazine, Vineyard Poetry Quarterly, Polyglot Magazine, Aloka Magazine, Magnets and Ladders, etc. She has received three literary prizes and is also among the finalists for another three. Her debut novel, The House Filler, is published in Canada in 2023.
ADDRESS
City: CALGARY, Province/Territory: Alberta
EMAIL
sherry.novel@gmail.com
LANGUAGES
English and Chinese
PUBLIC PRESENTATIONS AND WORKSHOPS
Presentation details
Presentation Genre
Literary fiction
Presentation Length
No more than an hour
Presentation Description
Presentation description
My entire presentation will answer one question: why move to Canada? I will share my "previous life" in China. I am an immigrant and came to Canada in 1988. I have lived in two different countries with different political systems, values, cultures, and histories. My writing has been enriched by two languages and by the literature works from the east and the west. I'd like to share those experience with my audience.
Presentation Fee(s)
Negotiable
Workshop details
Intended Audience
Writers
Workshop Length
60 minutes
Workshop Description
Workshop description
Character Building in Creative Writing
In this presentation, I will start with the main difference between literary fiction and commercial fiction. The next part is about how to create a successful character which involves elements such as the distinction between flat and round characters, abstract and vivid personalities, as well as delving into their motivations and goals. Characters come to life through a triad of perspectives encompassing their physiological, social, and psychological attributes. Writers also have the opportunity to introduce unusual characters, which can add depth and intrigue to the story. The art of describing characters effectively is another crucial skill, ensuring that readers can connect with and visualize them. Finally, the dynamic interplay between protagonist, villains, and supporting characters raises questions about whose story is being told and from whose perspective, shaping the narrative's direction and impact. Character development skills is vital in creative writing, as it allows authors to craft compelling and relatable individuals who guide the story's progression and engage the reader's imagination.
School presentation details
Intended Audience
College and senior high students
Presentation Length
No more than an hour
Presentation Description
Presentation description
My writing journey. I am at immigrant, and English is my second language. In addition, I suffer long-term disability since 2001. It took me almost 20 years to finish the trilogy in English. I would like to share my experience and the challenges I face with the audience. The message I would like to deliver is: never give up your dream. Where there's a will, there's a way. 
Presentation Fee(s)
Negotiable
EQUITY INITIATIVE
As part of the Union's Equity Implementation Plan, we are committed to increasing awareness of authors who are Black, Indigenous, racialized, LGBTQI2S, or living with a disability. This author identifies as:
Programs & Interests
Interested in participating Union's Ontario Writers-in-the-Schools program:
All members are eligible for the Union's Ontario Writers-in-the-Schools program. Are you interested in participating in this pro
Yes
Interested in participating in the Northern Ontario WITS program:
The Union's Northern Ontario Writers-in-the-Schools program funds in-person visits to northern Ontario schools when possible. Ar
Yes